I can only start with a big fat thank you to Nokia for sponsoring this article because it has been a brilliant tool in helping us improve our family health since Amelie, our second baby, has joined the tribe.
Nonetheless, I'm not sure what I enjoy more at the moment: the clever, easy to use Smart Temporal Thermometer or Body Cardio, which is more than a weighting gadget. But let's start with the great technology behind the Nokia Thermo, which has made our life much easier during the 'delightful perks' the cold season is usually bringing around.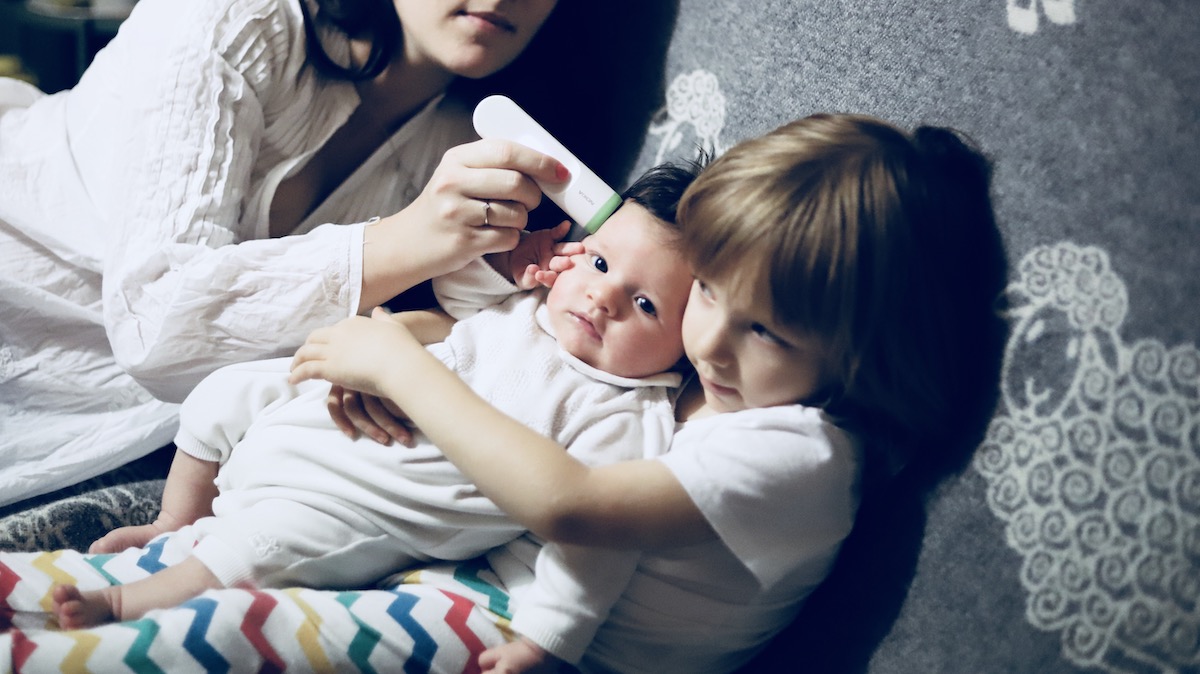 I must admit I've been the not so proud owner of four thermometers since our toddler, Lucas, was born in 2014. One suddenly stopped working soon after being purchased, while two of them had been rather slow and often inaccurate I eventually decided to put them away to avoid more frustration. The last one I got was pretty decent, however the actual reading time wasn't its best feature. But as Nokia Thermo sweeps across the forehead, there are 16 infrared sensors which take over 4,000 measurements to find the hottest point. This is a revolutionary advancement by Nokia which calls it HotSpot Sensor Technology. But there's more to it, besides accuracy and efficiency, here are the main reasons why I'd switch to it instantly:
can't find another easier to use piece of technology. It even tells when the reading has finished recording as it vibrates twice
it offers instant feedback, the temperature appears illuminated on the device while the LED indicator tells if the temperature is normal, elevated or high based on the age of the user
it must be the most sanitary way to take someone's temperature just by sweeping their forehead, you don't even have to touch the skin to have an accurate reading
it tracks the entire family's fever as the readings automatically synchronise with the smartphone.
It can even log up to 8 different users!
temperature readings sync automatically via either Wi-Fi or Bluetooth – if you use Wi-Fi you don't even have to have your smartphone near you.
possibly my top favourite feature remains the fact that it's a tool that's readable at night due to its cool design which incorporates the easy to follow illuminated reading which means no more waking up the child.
Click here to learn more about The Nokia Thermo, it's brilliant.
Why measure at the temporal artery? Thermo measures the body's temperature at the temporal artery on the forehead. As the temporal artery is connected to the heart through the carotid artery, it provides a constant blood flow from the heart and accurately reflects the temperature inside the heart.
You can download the Nokia Health Mate app here.
New:
Next on the family must-have health technology list is the smart Body Cardio Scale from Nokia, which I wish I'd had during pregnancy. Here's a few reasons why it works for our family:
First, it's a great tool to track our children's growth starting with monitoring their weight, simply by stepping on the scale while holding one of them in our arms. Great if you have wriggling toddlers who won't sit still long enough to be weighed!
Second, from one mother to another, I can only say that this is THE piece of technology to keep a new mum motivated throughout a postpartum journey. While people tend to focus on weight, Nokia focuses on the full body composition (fat, muscle, water), which helps us know what goes into that number, so we could understand better what to put more effort into. I'm personally aiming for a better and healthier figure, while trying not to focus much on a quick weight loss, but instead record each stage. In addition to weight, the scale screen displays a trend screen of the last 8 weigh-ins and automatically calculates BMI, so I'd immediately know where I stand in terms of progress.
Finally, it goes through an automatic Wi-Fi or Bluetooth synchronization with my smartphone (just like the Thermo).
Truth be told, in the beginning I wasn't completely mesmerised by this. It was just a piece of technology that appealed a lot more to my partner in crime Justin AllDadsTalk, who in the first 5 seconds after opening the scales' packaging had the Nokia Health Mate app installed and his profile created on his smartphone. But after watching him rather having fun with it, I gave it a go and boy, aren't I thrilled…
You can download the Nokia Health Mate app here.
Not yet convinced? Keep an eye on our insta stories and posts, there's a journey we have started in order to take a better control of our family's health.