Written in partnership with Southbank International School
For the past year my husband and I have been actively looking into schooling options for Lucas, our 4-year-old. We've read reviews and recommendations, we've visited schools and we've been talking to our experienced parent friends who had already been through the interesting process of choosing their children's school.
First of all, we have both learnt that when it comes to education, the last thing parents are lacking is options, especially in such a cosmopolitan city like London. Even so, I never imagined there would be so much pressure on us when it comes to choosing our children's education. How would you know which one is the right environment for them to thrive in? How should you feel which program is the best fit for your child? Yet, of course, the list of questions goes on and on. At least, mine does…
The very first step in organising our preferences was scheduling site visits, check the overall performance of each school, then shortlist down to a couple. Each of the schools we chose to see (five) had a very enticing story and very strong core values. However, the one that we both agreed on, and which was extremely impressive due to a multitude of reasons I'll be sharing shortly, is the Southbank International School.
Here's why…
It's a truly international environment
There are three campuses in the heart of London attended by more than 700 students aged from 3 to 19.  Southbank Kensington is aimed for 3–11-year-olds, located just a couple of minutes' walk to Notting Hill Gate tube station (Hyde Park is also conveniently only 15-minute walk away) and the very first school in the UK authorized to offer all three International Baccalaureate programs. Because both my husband and I went through the international Baccalaureate examinations ourselves, we believe a program such as the one Southbank International School is offering could be a great fit for Lucas.
One of the winning ticks on our list is that the school already has around 70 nationalities attending, mostly drawn from London's international community, including children of ex-patriates, business people and diplomats. No wonder the school offers a strong language program.
Many of the students have English as their second language or are bi or multi-lingual. As well as teaching in English, children are given the opportunity to learn 20 other languages at secondary school. The vast majority of the staff members have lived and worked overseas, which means they have a great understanding of the needs of students who move frequently and provide them with the appropriate support.
It's more than a school
Southbank International School is committed to developing students who are internationally minded, independent, enthusiastic about life and learning, and imbued with a sense of service to others. I have extracted this bit from the school's Mission Statement and Core Values and the reason I've done it is this: growing up in schools which held rather conservative views and a strong focus on discipline and best academic achievements above all, is another reason why the no uniform school choice and 'no walls' approach appeals to me even more when it comes to my own children's education. Also, another reason why Southbank International is great is because it's offering a brilliant agenda of extracurricular activities while these were almost non-existent in the educational system I grew up with. Considering the busy lifestyle of London parents like both, Justin and I, the after-school clubs and activities organised by the education team are a reassurance of continuity and steadiness, which I believe is very important especially in the early days of education.
Access to the best resources
After visiting the school, we've noticed that teaching is done in small class sizes of no more than 17 per class. This means children are able to receive personalized attention while teachers can involve all students in longer and more complex assignments where everyone should feel more confident about contributing. The classrooms are set up so students can move freely around clearly defined areas, both in and out of the school, for reading, writing, art, construction, imaginative play, science and mathematics.
It's also worth mentioning that fact that all primary students learn a musical instrument, while there's a library and a media centre for children and parents to access. One that really caught my attention is the school's Suzuki program which enhances the music curriculum, introducing children to their first violin or cello.
A strong sense of community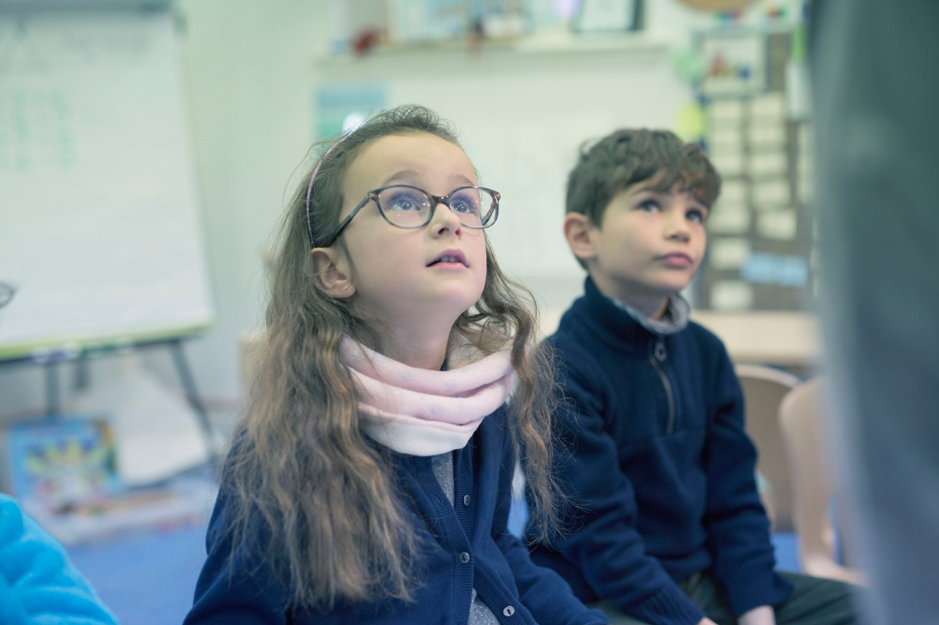 Southbank is a school which encourages parents, students and teachers to work together in order to create a strong community which treats everyone with fairness, listens to and treats with respect those with different points of view, makes decisions after wide consultation and seeks consensus, establishes community spirit through responsibility and accountability, empowers its members to be proactive. From plays, sporting events or themed discos, there's many events aimed at both parents and children, providing opportunities for everyone to get involved and even start establishing own community.
For us, this sounds extremely reassuring. Read here more on the program.