Watermelon. Full of vitamins, an enchanting contrast of colours, the most awaited seasonal fruit. Such a wonderful treat summer has to offer!
Here's my 15 ways you can spice up your kitchen table and spoil your tastebuds while making everyone happy in your little family. I tried them all!
1. Watermelon pizza
How easy and eye catching?! Try these scrumptious treats for your little ones who may not be huge fans of chunky fruit pieces when summer heat strikes. Although I think this may be more appealing to us, the creative foodies in constant search for beautiful food…
2. Watermelon flavoured water
Give your water a bit of spark this summer! Here's my watermelon, coconut water and lemon drink. An interesting mix for your thristy buds!
3. Watermelon sorbet
The ultimate refreshing treat! Click for a cool recipe from the Dashing Dish. Extremely easy and definitely the healthy version of its tempting sister, the naughty ice cream we love so much…
Photo: Dashing Dish
4. Watermelon jelly
I'm still trying to get the hang of it as I've not achieved the transparent beautiful jelly colour yet as one can easily notice below (the left side demonstrating my amazing skills (not!) of what it is a very first attempt, but Lucas seemed to have enjoyed it despite the cloudy colour!). Taste – jellycious! Click here for the detailed recipe.
5. Watermelon cake
How amazing could this guilty free dessert be? I found these two fun ideas from Apron Strings & Sprinkle Bakes and I can't wait to try them myself! Get a few shapers or some icing if you want to achieve the ultimate presentation and get creative kitchen busy 😉
Photo: Apron Strings & Sprinkle Bakes
6. Watermelon Popsicles
It's pretty much the easiest home made dessert ever. Follow a smoothie recipe, adding some banana or kiwi, any preferences you may have in terms of fruit and freeze it!
7. Watermelon photo fun (and health)
Encourage your child's creativity and find ways to create nice visual images using the watermelon seeds. Also did you know they are completely edible and loaded with nutrients including fatty acids, essential proteins and lots of minerals? These seeds are rich in vitamin B like thiamine, niacin, folate and minerals like magnesium, potassium, manganese, iron, zinc, phosphorus and copper. Click for 17 benefits the cheeky seeds have for you.
8. Watermelon lemonade
No need for any recipes here, just follow your instinct. Just remember that any mint, lime or other colourful fruits are always up for a great mix.
Source: Pintrest
9. Watermelon cocktails
Probably the best garden treat your guests will love you for. Check out a cool recipe for the best summer watermelon mojito.
10. Watermelon sour gummies
If you feel a bit more adventurous, there are lots of cool recipes for home made sour gummies. And if you can't stay away from the artificial gummies they sell in the supermarkets, then this is their best healthier version. It's worth a try!
11. Watermelon steak
I was a bit skeptical quite a few years ago when I first heard of it until the foodie inside me had to give it a try. It's so delicious and it's now a summery family and friends most unusual preferred visiting dish. You have to attend one of my garden parties, you'll see what I'm talking about 😉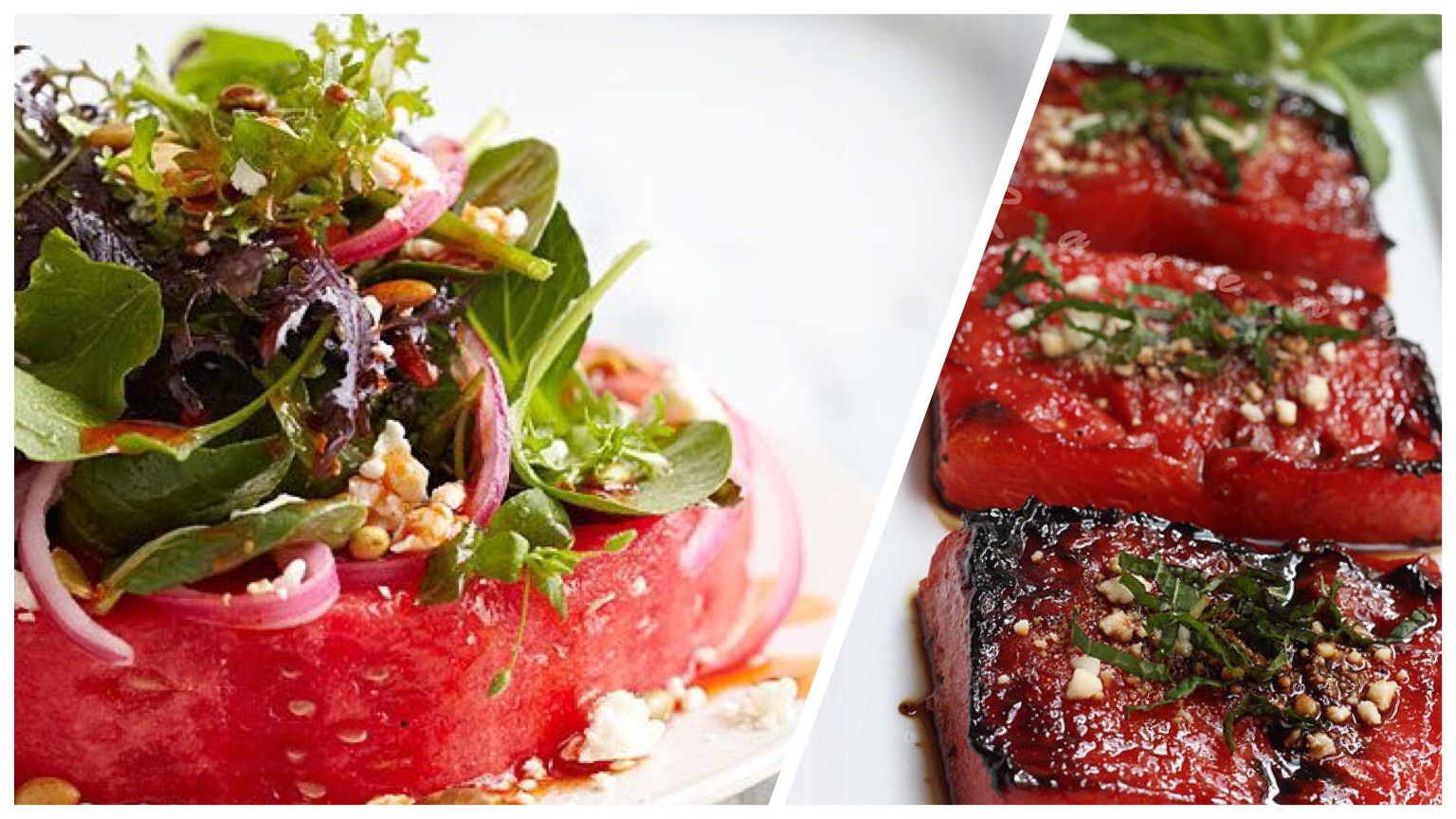 12. Watermelon salad
It may look pretty unusual to you, but this is getting very popular among today's restaurant menus. I love mine with pine nuts and all sorts of seeds really with a dash of lemon juice. Add in some feta! Try it and you won't be disappointed!
13. Watermelon up a baby shower
The list is endless with how watermelon can spice up such an event. If you want to be the hostess with the mostest then you have to impress your guests with the healthier version of this baby shower cake without compromising on taste and fun. Future mums will love you for it, although they shouldn't have too much during pregnancy.
14. Allmumstalk Watermelon Summer Slushy
Summertime in a glass! I created this extremely easy recipe by blending a handful of raspberries and chopped watermelon (I like them both slightly frozen so I don't have to use any ice, put them one hour in advance in the freezer, best trick!)

15. Fresh from the market watermelon dig in treat
If patience is not your main virtue (or your toddler's), then buy it, slice it, eat it. At least this is what's happening around my house when this one is around…


Have a delightful summer everyone! Looking forward to receiving your watermelon ideas x