It all started a few moons back when I, a skittish bride-to-be shopping for THE wedding dress, tried on a lavish gown in a ritzy bridal boutique shop with the catchiest fairytale name – Les Trois Soeurs (founded indeed by three creative sisters raised in Norfolk during the late 1970s who would soon move to London and successfully turn their childhood dreams into reality).
The gown was bold and fluid, embellished with the bravest cuts, yet caring a timeless air. The material had its own soft voice whispering: 'choose me, my finest silk and exotic tulle will be spoiling every pore of your skin at touch'. And so it did. It was a piece like none of the other ones I tried on until then; no surprise it was signed Zahavit Tshuba…It was going to be my wedding gown…
Here's my chat with the delightful, gifted and creative mind and mum of two who managed to create a 'five star dream factory' for women all over the world, yet her designs are and will continue creating long lasting memories for each of us.
1.Your diary must be completely different to the regular 9 till 5 office job. Add motherhood…
How does a regular day of Zahavit Tshuba look like?
Generally, my days are crazy busy! It all begins with a few tasks like making sandwiches for my little boys, preparing them for school, but getting million kisses and hugs in return; I then can start my day with a smile on my face and I find this being priceless. After, I'd either go to a training class downstairs or to the beach where my studio is, in order to check on all appointments I'm going to have. Once I enter the studio, the adventure starts! I'm checking all dresses ready for shipping for the overseas brides and then, together with my assistant, I start my meetings with all brides who arrive to their fitting appointments. Between meetings I'm working with the studio team on new designs and special bridal requests. In the afternoon I go to pick up my kids from school and take them to their afternoon classes or just play with them at home. Sometimes I go back to the showroom to meet brides who have their last fittings before wedding. I always read them a story before bedtime, after I do at least two hours of work on the emails which my assistant would pass over to me, including answering all press, boutiques and overseas client requests. They all need to be answered. From time to time I'm consulting my husband on some financial issues as these are the things he is in charge with when it comes to our business. Once a week I go out with my friends.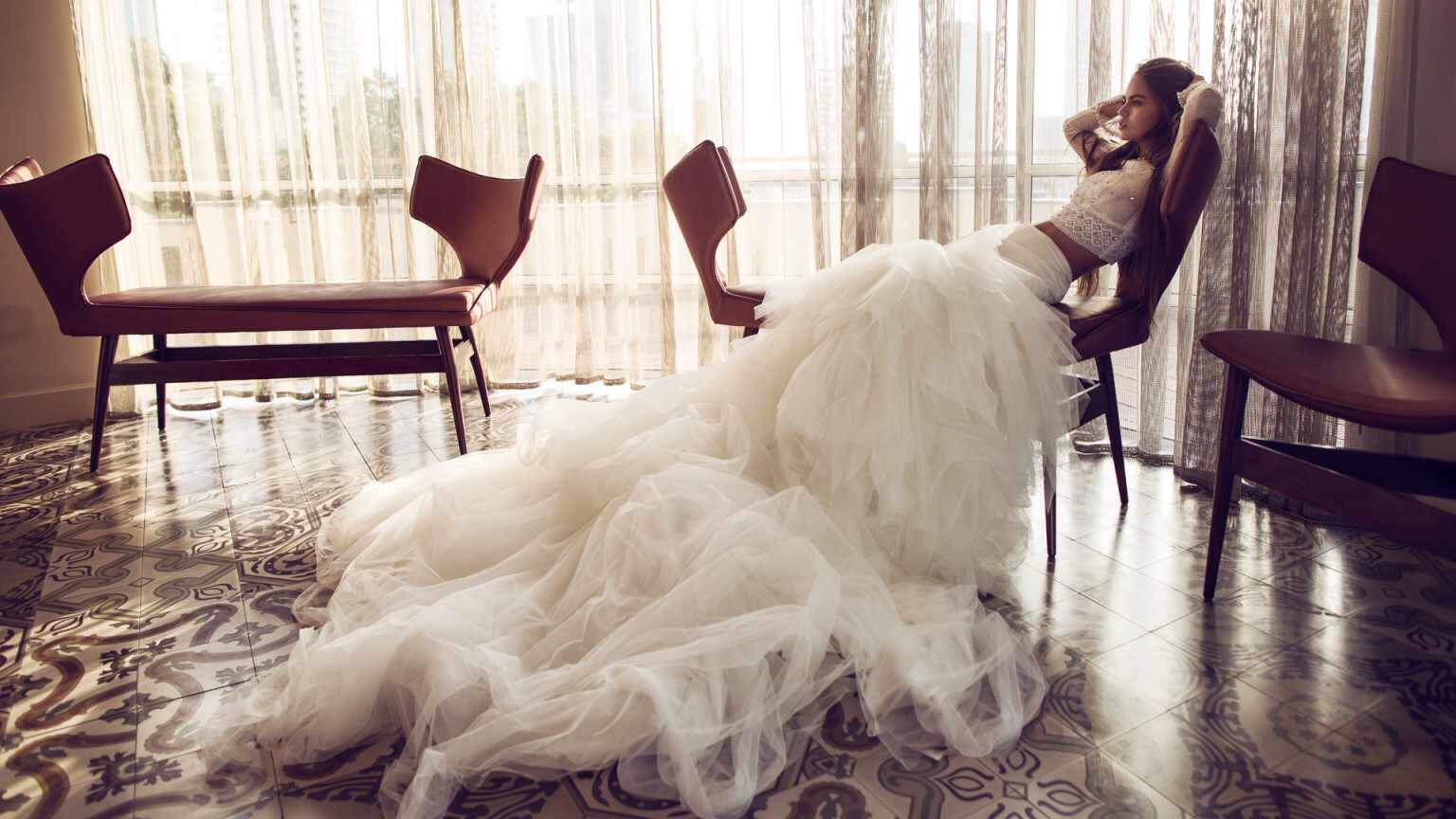 2. Successful career women, world wide known bridal designer, a role model to young entrepreneurs and busy mother of two boys. The balance between growing your own brand and being a good mother must have a lot to do with a healthy time management and a bit of discipline.
Share your own key tips and secrets of success
I must admit that it's a very difficult mission to be a mother of two little children while growing our own business on same time. When looking back I sometimes can't believe that I did it. I began my business when they were babies, it's only one year and few months between them, and when I started I only wanted to work lightly, to do something that I like most so I opened a very small studio on a small beach hotel. Not for a second I wanted it to turn into a big business. However, our plans are not always meeting reality. My first bridal collection was very successful internationally. brides from all over the world started to arrive at my little studio to buy dresses. I got a lot of interest from all over the world and I had to work hard in order to make things right. It definitely require a self discipline and a lot of strength. My husband started to help me and having his support, helped me a lot to coordinate between home and business. But still, my kids are the most important for me, and I'll never miss their school parties or anything they need. I'm very involved in their schools issues and in some cases I will give up special occasions or business trip and even bridal events and shows, in order not to miss special moments with them.
3. …and you chose brides…
Why the bridal path? How did the magic start?
I felt that I want to design special and unforgettable pieces. I start designing since I was very young. My parents use to have a textile factory, they were a clothing manufacturer and my mother was a fashion teacher as well. So I had the chance to practice and sew my own designs since I was a little kid. I designed everything, from casual, bathing suits to evening wear. But when I started my own business, I wanted to focus on unique and one of a kind pieces, that's how I chose designing bridal collections. I wanted to creat pieces that no one else is making. Something that doesn't look like any other design you see out there. I collected special lace pieces and fabrics from my worldwide trips, I used to travel a lot and I collected fabrics. I wanted to make dresses for brides who think differently and for the free spiritual woman like myself who wants to look special, who wants to make her own statement and not follow the common bridal trends. When designing for brides, I had a lot of space to create significant pieces. I couldn't do it on casual clothing. I felt in love with the idea of creating such an important dress as bridal dresses, for fashion forward brides who love my designs, they are now arriving from all over the world to my little beach studio, just to try on my dresses.

4. Who is your audience?
Describe in 3 words the Zahavit Tshuba bride
Open minded, free spiritual, fashion forward and self confident woman.
5. Not long ago you were a starting entrepreneur. What to keep in mind in the early days of growing a business (after all the challenges and perks you got during the past 5 years of growing your stunning brand)….
What would you advise new 'mumpreneurs'?
No matter how much passion you have for your business and no matter how much you wish to grow your business, you should always remember that there are family moments you shouldn't miss. Personally, I prefer to travel less for business trips/runway shows and special events I'm being invited to, if this is affecting special occasions with my kids. I have never missed one single school party or any event with the kids and I'm always there with them at the afternoons. There is a lot of stress in running a business but I'm trying not to bring the stress to them. It's not always easy, but it's very important to keep the balance between business and family life.
6. Motherhood is such a game changer…
Which are the 3 'I got this from my mama' lessons you'd like your tiny humans to learn from you and proudly use later in their adult lives?
I'm trying to teach my children to insist on getting their ideas out there and be creative. To think out of the box, plus a touch of creativity, ambition and diligence will turn these ideas into reality; to be original and to think differently, even if sometimes this doesn't match the common ideas or the school's ideology.
7. Your favourite food is…
Sushi and all kinds of fish and sea food.
8. Your favourite book is…
I love documentary books. To learn something new about great people, and philosophy books.
9. Finally, professional success on aside, what has motherhood been teaching you and your favourite motherhoody perks are…
To be patient and to listen to my kids' ideas and wishes, even if they are completely different to my own…
Shopping for a wedding dress can only be described as the Sturm and Dang of shopping, it is a process made of raw emotions, hopes and plans for the new beginning to come, all overwhelming, all involuntary. We all have high hopes from a single piece of clothing, we want it to be unforgettable and irreplaceable even if it's only for one night…Fashion designers like Zahavit make your journey smoother and more enjoyable, she knows how to paint the perfect bride's portrait.
Follow her on Instagram, she's the bridal inspiration brides-to-be should keep an eye on!