We recently made it to Rochester for the very first time. It was so easy to get it there by train as it's only 40 minutes away from St Pancras International with Southeastern, and by all means this hidden gem of Kent has it all for a beautiful family day out. No wonder Charles Dickens loved this place!
The castle, the cathedral, the cutest narrow lanes, the quiet parks, cozy coffee shops and river views make it the perfect spot if you want to take a short break from London. There is a lot of history to be discovered in this tiny city. We traveled with Southeastern using an Advance Return fare train ticket which starts from £12.17 from London to Rochester.
What to see
Rochester Castle
If you're not too hungry or in a hurry, you should start the city tour in the very gardens of the castle. The Medway river and castle views are a bonus while the kiddies can be well entertained running around the tall trees and river bank (colours here really are splendid!).
One interesting fact about the 12th-century castle is that its stone tower, also its most prominent feature, is one of the best preserved in England or France. For more history lessons you'll have to visit it yourself, there is an entry family ticket you can purchase online in advance or you can buy it when you arrive there.
Rochester Cathedral
Next, when everyone is almost ready for a scrumptious hot chocolate treat, you can move onto the Rochester Cathedral which is closer to the high street of Rochester. One must create a few pixels for the photo album here, because the view is simply delightful from the Epaul Lane which connects the castle to the cathedral.  Can you believe this magnificent building was founded all the way back in 604? Although I'm not here to give you another history lesson, I suggest you pack up your camera ;).
Where to eat 

The high street of Rochester is full of tiny coffee shops and restaurants that have a lot to offer when you're out with your family. We've noticed that many people around us were actually tourists rather than locals. If you're paying a little bit of attention, you'd notice that every few corners there's a great view towards the cathedral.
Smoke and Liquor seems to be a popular choice amongst both locals and tourists, no surprise here, there is a warm atmosphere right when opening their door, the staff is very welcoming and the old building's very instagrammable look doesn't hurt either 😉
We had a quick cup of tea at Tiny Tims of Rochester before Lucas wanted to explore the high street further with his new toy car he got from one of the cute shops next door.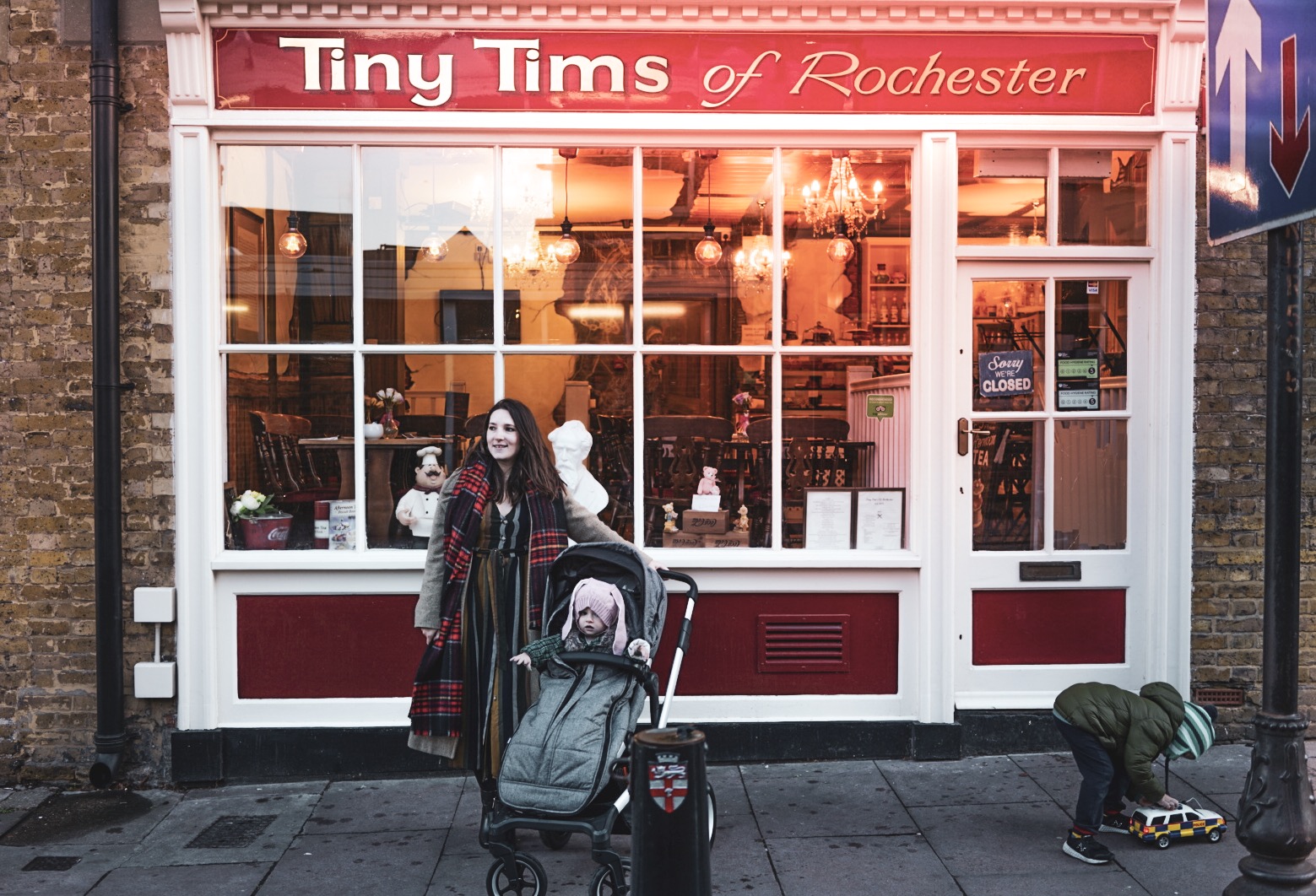 Next we stopped for a very delicious hot chocolate and almond tart at The Rochester Coffee Co (I might have gone for a touch of Bailey hot chocolate cuppa, and it might have been the best choice to warm up, but shhh). Plus the amount of marshmallows on Lucas' cup is only allowed on our family trips and he must always share 😉

 
Before starting to look for a family friendly place where to dine, we went Christmas browsing for a little while. There are so many shops that offer artisan gifts and festive decorations, and we ended up with a few early presents underneath the baby's buggy to take home – I only regret the amount of chocolate I bought thinking it would make a great gift, instead I had half on my train journey back home while hiding from the little ones.
Where to dine
This wasn't an easy decision as there are quite a few options, including a couple of Italian restaurants which were almost fully booked. We settled for Don Vincenzo and he served us himself. The food menu is rather vast, another tough decision we've eventually nailed. There are lots of options they can prepare for children which are not even in the menu. We went for a bit of pasta, some salmon and broccoli for them and more king prawn with garlic butter for myself. Justin says he had the best pannetteal salmone monterosa at Don Vincenzo. Their tiramisu recipe was the cherry on top! Couldn't recommend this place more!
Before heading to the train station, we watched the most beautiful sunset by the Rochester Castle. We're now eager to return here sometime around end of November or beginning of December when the Christmas market is officially open.
[tps_header]
[/tps_header]
One more ticket from Southeastern and one more escape this Winter, here's the website to help you create those lasting memories and share your own #SEhiddengems with @Se_Railway!
This post was written in partnership with Southeastern Railway, but all opinions are my own.