A bit late posting about Ascot,  but this remains one of my favourite picnic shoots with my little tribe. I remember vividly my first Ascot experience – scroll down to my first Ascot photo taken many many moons ago! It happened way before having children and it wall all about finding the perfect fascinator and the perfect dress. Nothing else seemed to matter as much! Except for the high tea treat I knew would follow…;)
This time round it was even more fun as it was all about finding the perfect wardrobe pieces for 3 tiny humans while offering them an unforgettable first experience of Ascot at home, and guess what? It worked beautifully! Thanks to Childrensalon I was able to dress them head to toe and get the Ascot inspiration I was looking for.
We've been pretty lucky with the sunny weather over the Royal Ascot days, despite the fact that for the first time in the events' 300 year history the races were hosted without spectators, but we still watched them in the comfort of our own home. This didn't stop us from dressing up and getting a picnic together to celebrate our way.
You can read more here on our experience and more tips on how to involve the little ones when it comes to the famous races celebration. Meanwhile here you have my top 3 tips:
1. Think of a great location to host – after all, race day is all about being outside and taking in the atmosphere and summer sunshine. We went to Pergola Hill and Gardens in Hampstead Heath which is one of my favourite places in London.
2. Pack a picnic – Ascot is renowned for fancy food and in particular high teas. Set up a basket full of strawberries and also, pastries always do the trick for the ultimate British summertime treat. Add sandwiches, but don't forget about plenty of water and juice to keep the little ones hydrated.
3. Don't forget to organise some games!
The most important part of the day (for the kiddies at least) are the activities to make sure you all have the ultimate experience – horse shoe throwing and hurdle races are so much fun! You can create these yourself following a DIY guide online or they can be bought quite easily from online retailers of children's games.
Lastly, join the fun! Daddy set up the games with the kids, whilst I made sure there were no pastries left. We finished off our afternoon with a girls vs boys competition – guess who won?! 😉
Amelie wears Dress | Hat
Lucas wears Outfit Set
Philip wears Outfit Set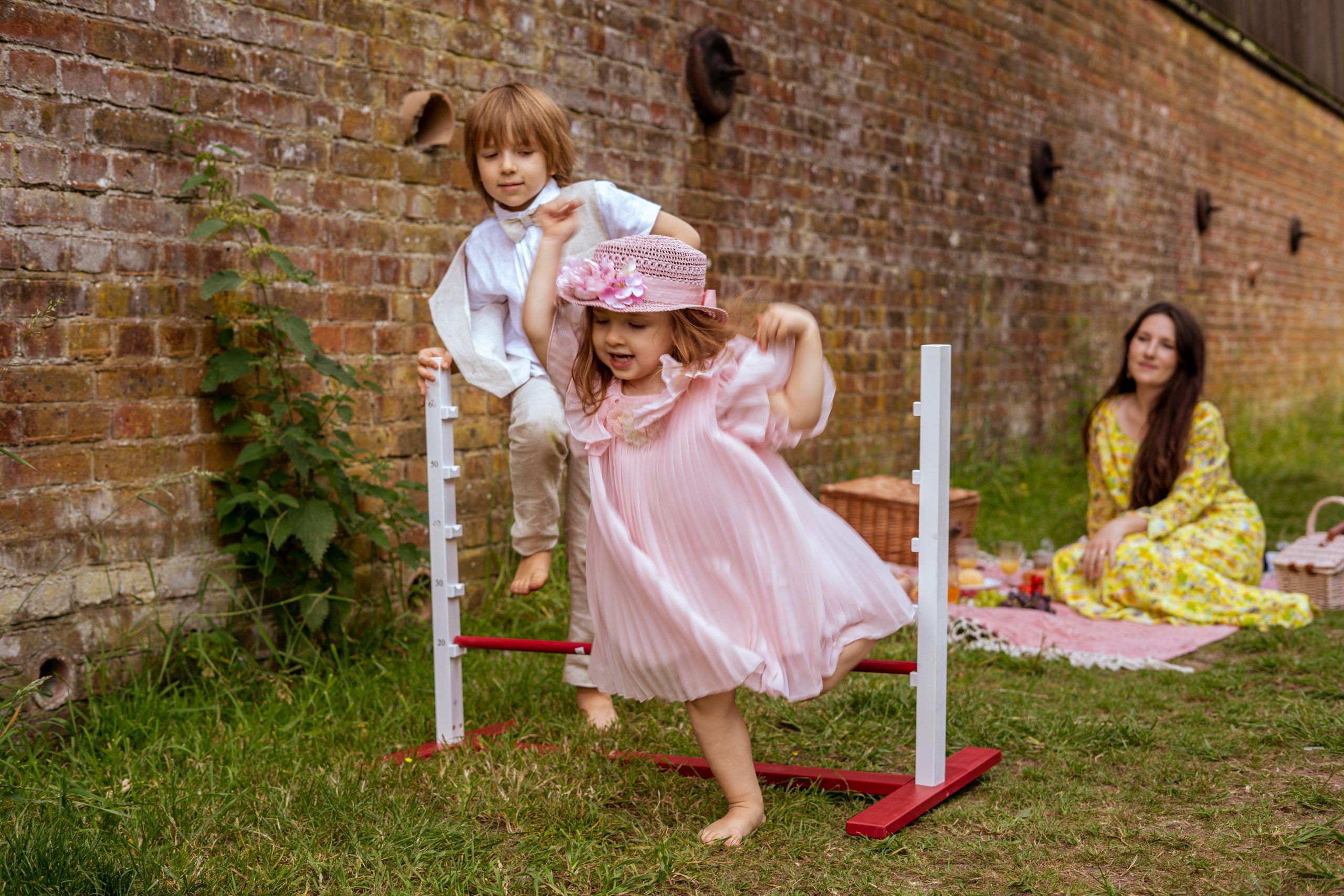 …and Ascot 10 years ago, before children & high res photography 🙂
[tps_title][/tps_title][tps_title][/tps_title]